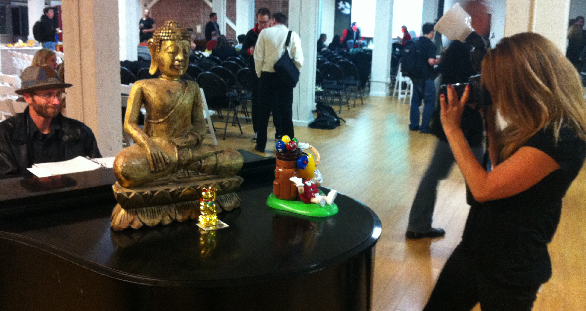 Last week, I was at the AppShow in San Francisco and I'm still mesmerized by the experience. Not because of the many great apps made in the Bay Area, as I think we are not behind by any means, but because of superiority of the show. The friendliness of people and the charming environment of the show was wonderful. And it's true not just for the show, but also for the whole atmosphere: everything is presented in a way if NASA was launching a spaceship – no wonder why investors stand behind so many ideas standing on weak legs.
Back to the AppShow. The event took place between the skyscrapers in a location I could never find on my own. As I entered, I saw people deeply immersed in networking and heard a man playing on a grand piano, on which a golden Buddha statue sit. Hipster heaven.
In spite of the many similar events taking place every day, the people at the conferences here are very open and interested. It was very easy to start a conversation with everyone, you can freely ask a question or get information with no difficulties.
An event like this is also a good opportunity to learn how to talk about your product and so you can to tell your idea in a concise, clear, and understandable way. I would recommend everyone to visit such an event and practice his or her communication skills, because entrepreneurs coming from Europe to the United States must learn the American way of pitching. The only way to accomplish this is to go to similar events, watch how others do their presentations, and to tell about your idea to as many people as possible. Luckily, effective communication skills can be learned, so don't worry if you are currently not so good.