Contactless orders for events & venues – a safer and fully optimized option for 2022
I think it was a year ago to the day when I first said to my colleagues that I just don't want to write about anything COVID anymore. It was already such an integral part of our lives, all over the news, all over the blogs, no matter where you looked the only thing you heard about was coronavirus and its painful everyday consequences that I felt I need an escape from that and I need to feel a bit "normal" again and for me writing about technology was this escape.
However, one year later COVID is still here, it is not going anywhere and the main topics are still the new variants, booster shots, daily numbers and vaccination passports but I think I speak for all of us when I say that we still want to feel a bit normal. We want to go and see our favorite bands play, we want to take our kids to the match day, go to a restaurant with our family or visit a bar with our friends and there is one thing that none of the big pandemics throughout our history had before us, our advancements in digital technology.
This digital technology already helps us in:
Online shopping and robotic delivery
Digital and contactless payments
Remote working, distance learning
Telehealth, video consultations
3D Printing
Online entertainment and streaming
So what is there for our crowded events?
Festivals, cinemas, football matches, restaurants.. etc. are by definition crowded places but we don't want to simply just cancel them so there should be a way to utilize technology to make them safe. There are the already standard regulations, limiting the number of people allowed to enter the venue, wearing masks everywhere, checking the temperature of the people entering..etc. but what more could we do to improve the safety of our events?
This is how we started our brainstorming internally, checked various resources and even mathematical models and quickly found that minimizing the contacts by optimizing the flow of people inside a venue is the key opportunity and we immediately rushed to the drawing board.
It was one of those rare occasions when everything comes together really quickly and it just snaps, we had part of the technology already ready as part of a larger backend system we worked on, the plans were crystal clear, we immediately had a partner lined up, happy to provide feedback and do a pilot with us (but more on that later) so even with the really extensive live testing we planned for the project came together quicker than any other we have worked on.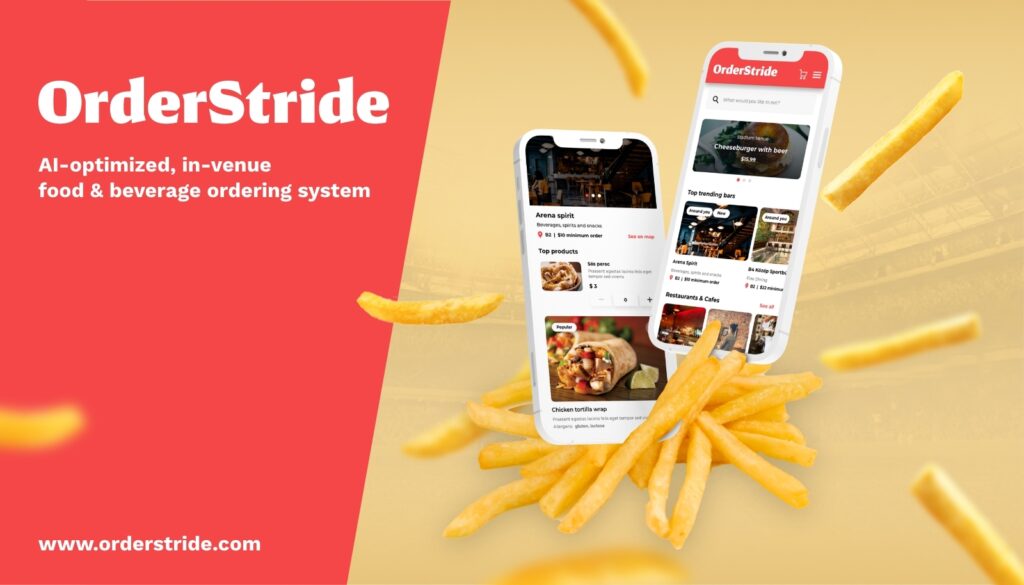 What is OrderStride?
Orderstride is a food & beverage ordering system specifically designed for high volume retailers in arenas, festivals and event venues. Its speciality is that it uses a combination of Machine Learning and AI to provide a built-in advanced line management optimizing the distribution and timing of the orders received. This not only helps in dramatically reducing wait times but also provides an even flow between the different buffets (or kiosks) available.
In addition to that OrderStride also provides a fully customizable caterer rule matrix (order limit, time limit, wait limit.. etc.) and easy options to change the menu and the availability of items or even entire kiosks on the fly.
Customers can easily start ordering via scanning a simple QR code, navigating to a menu on a web link or from a mobile app that they already have installed. The checkout happens online with multiple payment options available so the entire flow is fully contactless and the status of the order is constantly updated with timed notifications keeping customers informed at every minute.
Case study: Sportfive – Groupama Arena
We are extremely lucky to have a long standing relationship with Sportfive and had the opportunity to work together on some really interesting projects previously. They are the operator of Groupama Aréna that can host over 22 000 people and is the home stadium of Ferencvárosi TC – FRADI, the largest football club in Hungary.
They provide an outstanding level of service for fans and visitors and they are always in the forefront when it comes to innovation so we couldn't have wished for a better opportunity.
Some of the main requirements for the solution were:
Easy integration with the existing Fradi mobile app
Minimal hardware requirements on the caterer side
Headless integration with their existing CMS system
Flexible management of prices and availability
Payment option that supports their fan card
An option to manage advertisements
Due to the really large fanbase and the fact that fans are always waiting for any new developments with high anticipation every project needs really careful planning, preparation and real user testing before any promotion could start.
On the first match, we didn't really anticipate heavy usage and had a set goal of a few hundred purchases as a start. Much to our surprise this was really quickly surpassed right after opening the gates and the game still hasn't even started yet.
Some of the key takeaways are:
There was a 2x times increase in adoption rate between the first and the second event
98% of the customers would order again
Even at peak times when the buffets were heavily overloaded, online orders were served precisely and on time
We could see an increase in both, total sales and also per customer spending compared to the traditional fully offline orders
"Both Groupama Arena and Fradi want to be at the forefront of digitization and innovation, and the online food and beverage ordering option is the latest manifestation of this. Our most important goal is to serve our fans at matches and beyond – the latest development also serves this purpose."
– Balázs Kulin, Head of digital development at Sportfive
The ordering solution was introduced at the end of the season and performed extremely well at the last couple of matches so it will be a standard option for the upcoming season and due to the strong interest and success after the introduction there are a number of plans to extend the services, include unique offers or support more locations in the future.

If you are interested in OrderStride and want to see a live demo or just have a feature or use case idea, please feel free to book a free demo through our website.